Love him or hate him, Marilyn Manson has one of the most amazing stage shows in all of music. Anybody that has ever seen him live says that no other act even comes close to him. What most people don't realize is that one of the primary reasons for Manson's awesome show is a brilliant magician named Rudy Coby. He's responsible for the fantastical flair and the hint of magic that goes into the act. They're dear friends and creative colleagues. In fact, when Rudy Coby did a revival of his show last year, his arch nemesis in the act was played by none other than Manson himself.
But back in the 90′s, before Mr. Coby took to the road with Manson, he did a TV magic special. Do yourself a favor and track down as much of that program as you can. It's frikken weird, engaging beyond words and as magical as magic gets. If nothing else, at least watch his Puppet Boy routine.
Click here to watch it on Youtube.
Also, you can read an interview with Rudy Coby about his time traveling with Manson. If you're a fan of either man, it's a must-read. Find it here.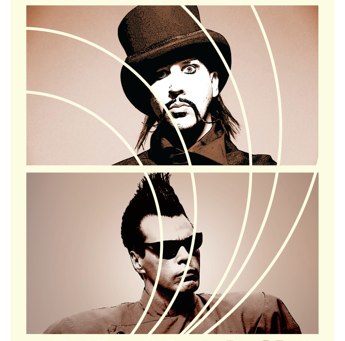 Tags: Marilyn Manson, Puppet Boy, Rudy Coby